CALsys 1500BB High Stability Black Body Furnace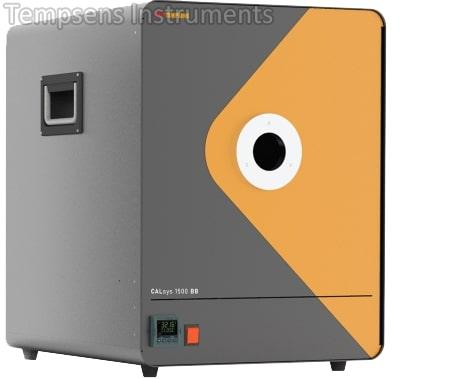 Business Type
Manufacturer, Exporter, Supplier, Retailer, Wholesaler
Temperature Resolution
1°C
Stability
±0.4°C at 500°C, ±0.7°C at 1000°C, ±1.0°C at 1500°C
Controlling Sensor
PT-RH/PT T/C
Click to view more
Product Details
Method of Control
Digital self tuned PID Controller
Heaters
Silicon Carbide Spiral Rod Heater
Time to Reach Max Temp
2.5Hrs
Computer Interface
RS-232
Operating Temperature
20 to 45°C
Power Requirement
230 VAC, 3.5 KW
Dimensions of Cabinet
590(H) x 450(W) x 530(D) mm
Radiation Cavity Type
Silicon Carbide
Dimension of Cavity
46 Mm Dia X 85mm Depth
External Aperture
40 mm dia
Download

View
CALsys 1500BB calibration source is a highly stable standard black body furnace for calibrating noncontact IR thermometers for the wide temperature range of 500 to 1500°C. The unique feature of this black body furnace is large temperature-controlled black body target with a diameter of 40 mm and 85 mm depth which offer large view area for IR thermometer. The emissivity of the target is 0.99(±0.01). The temperature of the calibrator is set and controlled by a self-tuned PID controller with automatic super fine adjustment.

Key Features:
Use of Silicon Carbide Spiral Rod Heaters
Wide Operating Range (500 to 1500°C)
High Stability
PC interfacing
Simple to use and cost-effective
Sighting tube

Accessories:
NABL accredited calibration certificate - 3 point
Software - Cal Soft including for setting bath temperature and monitoring the PV. Graphical representations of PV/TIME with 2 hours data logging.
Operational Manual
Specification
Temperature Range
500 to 1500oC
Temperature Resolution
1.0oC
Stability
±0.4oC at 500oC
±0.7oC at 1000oC
±1.0oC at 1500oC
Controlling Sensor
PT-RH/PT T/C
Method of Control
Digital self tuned PID Controller
Heaters
Silicon Carbide Spiral Rod Heater
Time to Reach Max Temp
2.5 Hrs
Computer Interface
RS - 232
Operating Temperature
20 to 45oC
Power Requirement
230 VAC, 3.5 KW
Dimensions
580(H) x 500(W) x 675(D) mm
Radiation Cavity Type & Dimension
Silicon Carbide,
50 mm Dia x 300mm depth
Sighting Tube Dimension
37±1mm dia & 140mm depth
Weight
65 Kg
Looking for "
CALsys 1500BB High Stability Black Body Furnace

" ?
Piece