CALsys 250 High Accuracy Liquid Bath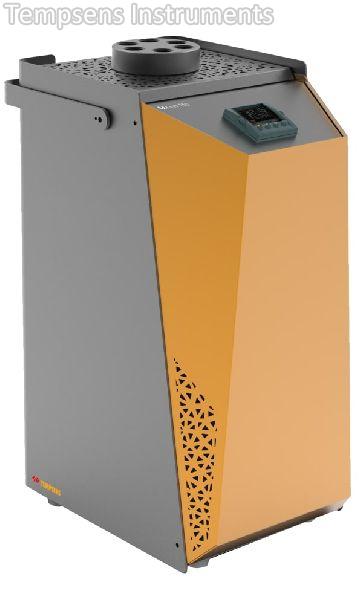 Price :
62,500.00
/ Piece
MOQ : 1 Piece(s)
Business Type
Manufacturer, Exporter, Supplier, Retailer, Wholesaler
Standard
CE Certified
Temperature Range
50 to 250°C
Temperature Resolution
0.1°C
Click to view more
Product Details
Stability
±0.015°C at 50°C, ±0.025°C at 150°C, ±0.05°C at 250°C
Uniformity
±0.02°C at 50°C, ±0.04°C at 150°C, ±0.06°C at 250°C
Controlling Sensor
PT-100
Method of Control
Digital Self Tuned PID Controller
Time to Reach Min. Temp
2 Hrs
Medium of Heating
Silicon Oil
Time to Reach Max Temp
30 Mins
Computer Interface
RS - 232
Operating Temperature
20 to 25°C
Power Requirement
230 VAC, 1.0 KW
Dimensions
360(H) x 185(W) x 285(D) mm
Removable Insert Construction
6 holes of 15 mm Dia
Instrument Weight
12 Kg (without packing)
Download

View
Provide superior thermal environment for probe immersion as no air gap exist between the probe and the medium Thermal coupling is therefore much better than the alternatives described, and the stirring results in very even heat distribution throughout the medium. Methanol is used for temperature below 0°C, water from 0 to 80°C and silicon oil for upto 250°C. We have seven types of liquid baths given below.

CALsys 250 calibration bath is a highly stable standard stirred liquid bath for calibrating RTDs / Thermocouples and other temperature sensors in the laboratory. The temperature of the bath is set and controlled by a self-tuned PID controller with automatic super fine adjustment. The unique feature is portability with very high stability and uniformity.

The medium used in the bath is silicon oil.

Key Features:
Large Immersion Depths
Wide Operating Range (50 to 250°C)
High Stability and Uniformity
PC interfacing
Simple to use and cost-effective
Portability

Accessories:
Silicon Oil......... Part No.C300S-LB-SO
NABL accredited calibration certificate - 3 point.
Software - Cal Soft including for setting bath temperature and monitoring the PV. Graphical representations of PV/TIME with 2 hours data logging.
Operational Manual.
Specification
Temperature Range
50 to 250oC
Temperature Resolution
0.1oC
Stability
±0.015oC at 50oC
±0.025oC at 150oC
±0.05oC at 250oC
Uniformity
±0.02oC at 50oC
±0.04oC at 150oC
±0.08oC at 250o
Controlling Sensor
Precision PRT (PT-100z)
Method of Control
Digital self tuned PID Controlle
Medium of Heating
Silicon Oil
Time to Reach Max Temp
30 Mins
Computer Interfac
RS - 232
Operating Temperature
20 to 45oC
Power Requirement
230 VAC, 1.0 KW
Dimensions
360(H) x 185(W) x 285(D) mm
Access Opening
90 mm Dia
Depth
140 mm
Removable Insert Construction
6 holes of 15 mm Dia
Weight
Approx 12 Kg
Volume
900 ml
Wetted Parts
Aluminium
Large depth available on custom built model
Looking for "
CALsys 250 High Accuracy Liquid Bath

" ?
Piece