CALsys -35/200 High Stability Bath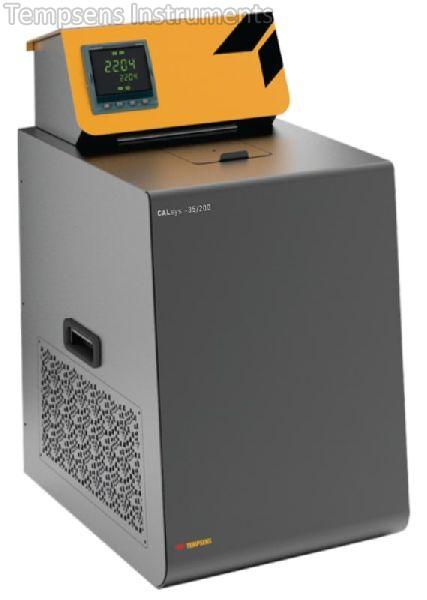 Business Type
Manufacturer, Exporter, Supplier, Retailer, Wholesaler
Temperature Range
-35 to 200°C
Stability
±0.01°C at -35°C, ±0.05°C at-0°C, ±0.04°C at 200°C
Uniformity
±0.03°C at -35°C, ±0.06°C at 0°C, ±0.07°C at 200°C
Click to view more
Product Details
Cooling Time
60 min (room temperature to -35°C )
Access Opening
105 (L) x 105 (W) mm
Method of control
Digital Self Tuned PID Controller
Computer Interface
RS - 232
Power Requirement
230 VAC, 2 KW (50 Hz)
Dimensions
540(H) x 220(W) x 620(D)mm
Calibration
Accredited calibration certificate provided
Environmental operating conditions
0°C to 40°C, 0% to 90% RH (non-condensing)
Specifications valid in environmental conditions
13°C … 25°C
Input (CaLsys -35/200 Autocal)
Four Channels (One master and three test sensors), high-quality LEMO connector suitable for both T/C
Download

View
CALsys -35/200 is a Highly Stable Stirred Liquid Bath for Calibration RTD / Thermocouple and also for compensation of cold junction.

CALsys -35/200 offers the temperature range of -35 to 200°C. It has large tank which is filled with liquid (Water+Methanol/Silicon Oil). The liquid is heated or cooled to the desired temperature, where Methanol+Water are used for Negative Temperature and Silicon Oil is for Heating purpose.

It has better stability & uniformity than dry block bath and as it uses of stirred liquid. This CALsys -35/200 is built using CFC-free refrigerants.

Key Features:
High Accuracy
High Stability and Uniformity
Wide Temperature Range
PC Interfacing
Simple to Use and Cost-Effective

Accessories
Standard Accessories
Reference Standard PRT…Part No.TPRT-A-300
NABL accredited calibration certificate - 3 point
Software - Including for setting bath temperature and monitoring the PV. Graphical representations of PV/TIME.
Operational Manual

Optional Accessories
Methanol............10 Ltr. No.(3050-M)
Silicon Oil............10L Part No.C200S-LB SO
Input (CaLsys -35/200 Autocal): Four Channels (One master and three test sensors), high-quality LEMO connector suitable for both T/C and Rtd.

Software (CaLsys -35/200 Autocal): The calibrator will be provided with software for data recording (Manual Mode) and report generation in Auto Mode.

Data Logging (CaLsys -35/200 Autocal): Data Logging facility with logged data export to the computer through  LAN port (Optional USB)
Specification
Temp Range
35 to 200oC
Stability
±0.01oC at -35oC (Methanol)
±0.05oC at-0oC (Methanol)
±0.04oC at 200oC (Silicon Oil)
Uniformity
±0.03oC at -35oC
±0.07oC at 0oC
±0.07oC at 200oC
Temperature Resolution
0.01oC
Time to Reach Max Temp
1.5 Hrs
Medium Cooling
Methanol + Water
Medium Heating
Silicon Oil
Controlling Sensor
PT-100
Volume
7 Ltr.
Access Opening
157(L) x 142(W)
Depth
127 mm
Method of Control
Digital self tuned PID Controller
Computer Interface
RS - 232
Operating Temperature
20 to 25oC
Wetted Part
SS-304
Power Requirement
230 VAC, 2.0 KW
Dimensions
540(L) x 220(W) x 620(H)mm
Weight
Approx 41 Kg
Looking for "
CALsys -35/200 High Stability Bath

" ?
Piece