CALsys -40/50 High Stability Bath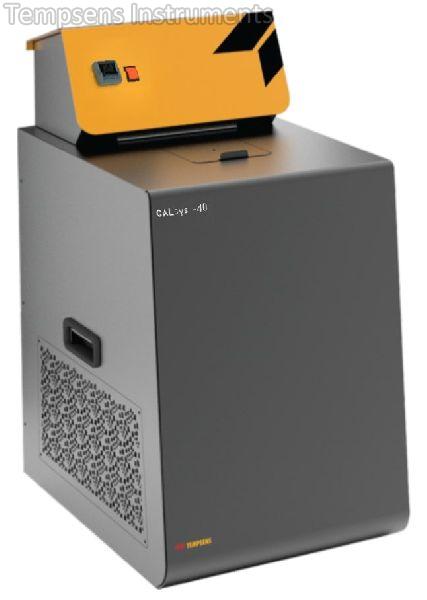 Business Type
Manufacturer, Exporter, Supplier, Retailer, Wholesaler
Standard
CE Certified
Temperature Range
-40 to 50°C
Stability
±0.04 at -40°C, ±0.07 at 0°C, ±0.05 at 50°C
Click to view more
Product Details
Uniformity
±0.05 at -40°C, ±0.09 at 0°C, ±0.07 at 50°C In stock Part Code: CALsys -40/50 ₹150,000.00
Temperature Resolution
0.1°C
Cooling Time
60 Min ( room temperature to -40°C )
Controlling Sensor
PT-100
Access Opening
105 x 105 mm
Method of control
Digital Self Tuned PID Controller
Computer Interface
RS - 232
Operating Temperature
20 to 25°C
Power Requirement
230 VAC, 2.0 KW
Dimensions
410(W) x 702(H) x 603(D) mm
Instrument Weight
41 Kg(without packing)
Download

View
CALsys -40/50 is a Highly Stable Stirred Liquid Bath for Calibration RTD / Thermocouple and also for compensation of cold junction.

CALsys -40/50 offers the temperature range of -40 to 50°C. It has large tank which is filled with liquid Methanol. The liquid is heated or cooled to the desired temperature. It has better stability & uniformity than dry block bath and as it uses of stirred liquid.

This CALsys -40/50 is built using CFC-free refrigerants.

Key Features:
Large Immersion Depths
High Accuracy
High Stability and Uniformity
Wide Temperature Range
PC Interface
Simple to use and Cost-effective

Accessories:
Reference Standard PRT...Part No. TPRT-A-300 NABL accredited calibration certificate - 3 point.
Software - Cal Soft including for setting bath temperature and monitoring the PV. Graphical representations of PV/TIME with 2 hours data logging.
Operational Manual.
Specification
Temp. Range
40 to 50oC
Stability
±0.04oC at -40oC (Methanol)
±0.07oC at 0oC (Methanol)
±0.05oC at 50oC (Water)
Uniformity
±0.05oC at -40oC
±0.09oC at 0oC
±0.07oC at 50oC
Temperature Resolution
0.1oC
Time to Reach Min. Temp.
1.5 Hrs
Medium
Methanol
Controlling Sensor
PT-100
Volume
3 Ltr.
Access Opening
90 x 90 mm
Depth
150 mm
Method of control
Digital self tuned PID Controller
Computer Interface
RS - 232
Operating Temperature
20 to 25oC
Power Requirement
230 VAC, 2.0 KW
Dimensions
500 x 350 x 450 mm(Approx.)
Weight
40 Kgs.
(Large depth available on custom built model)
Looking for "
CALsys -40/50 High Stability Bath

" ?
Piece