High Stability Block Furnace (CALsys 1200L)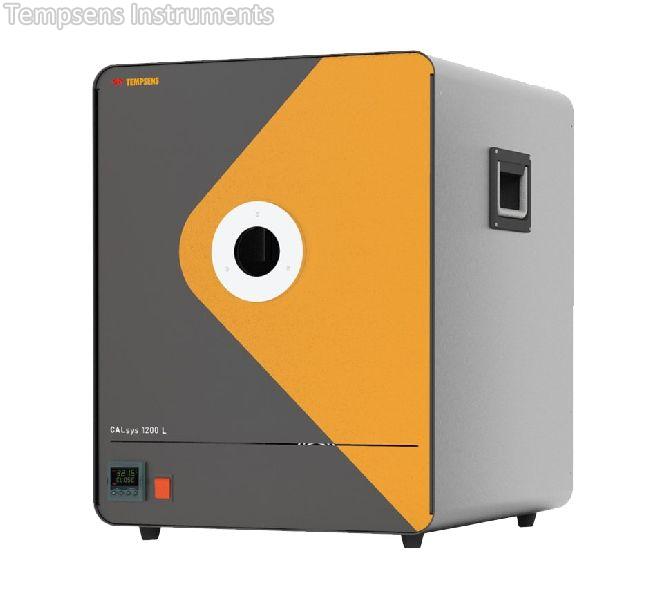 Business Type
Manufacturer, Exporter, Supplier, Retailer, Wholesaler
Temperature Range
300 °C to 1200 °C
Temperature Resolution
1.0°C
Stability
±0.1°C at 300°C, ±0.2°C at 700° C, ±0.35°C at 1200°C
Click to view more
Product Details
Uniformity
±0.15°C at 300°C, ±0.25°C at 700°C, ±0.4°C at 1200°C
Controlling Sensor
R Type Duplex
Stabilization Time
15 to 20 Mins
Insert OD dimensions
37 mm
Method of Control
Self tuned PID Controller
Display
LCD, °C, or °F user-selectable
Size (H x W x D)
590(H) x 450(W) x 530(D) mm
Power Requirement
230 VAC, 2.0 KW
Computer Interface
RS - 232
Calibration
Accredited calibration certificate provided
Environmental operating conditions
0 °C to 40 °C, 0 % to 90 % RH (non-condensing)
Specifications Valid in Environmental Conditions
13 °C … 33 °C
Download

View
CALsys 1200L calibration source is a highly stable standard furnace for calibrating thermocouples in the laboratory. The temperature of the furnace is set and controlled by a self-tuned PID controller with automatic super fine adjustment. The standard insert is a metallic block of special material, which is 37mm in diameter with 240 mm long and can hold up to four thermocouples.

It has been designed for high-temperature range calibration and find application in the glass, electrical power, automotive, material processing industries & laboratories. Special Version with 3 zone furnaces are available.

Key Features:
Large Immersion Depths
Wide Operating Range (300 to 1200°C)
High Stability
PC interfacing
Simple to Use and Cost-Effective

Accessories:
Reference Standard Thermocouple ('N' Type T/C)
NABL accredited calibration certificate - 3 point
Software - Cal Soft including for setting bath temperature and monitoring the PV. Graphical representations of PV/TIME with 2 hours of data logging.
Operational Manual
Specification
Temperature Range
300 to 1200oC
Temperature Resolution
1.0oC
Stability
±0.1oC at 300oC
±0.2oC at 700o C
±0.35oC at 1200oC
Uniformity
±0.15oC at 300oC
±0.25oC at 700oC
±0.4oC at 1200oC
Controlling Sensor
Precision PT/RH-PT T/C
Method of Control
Digital self tuned PID Controller
Insert Construction
Dia 37 x 240 mm long
(2X6mm & 2X8 mm holes) of 160mm insertion depth
Time to Reach Max Temp
1.5 Hrs
Computer Interface
RS - 232
Operating Temperature
20 to 45oC
Power Requirement
230 VAC, 2.0 KW
Dimensions
500(H) x 400(W) x 490(D) mm
Weight
Approx 50 Kg
Looking for "
High Stability Block Furnace (CALsys 1200L)

" ?
Piece