Non Contact Pyrometer (AST A450C)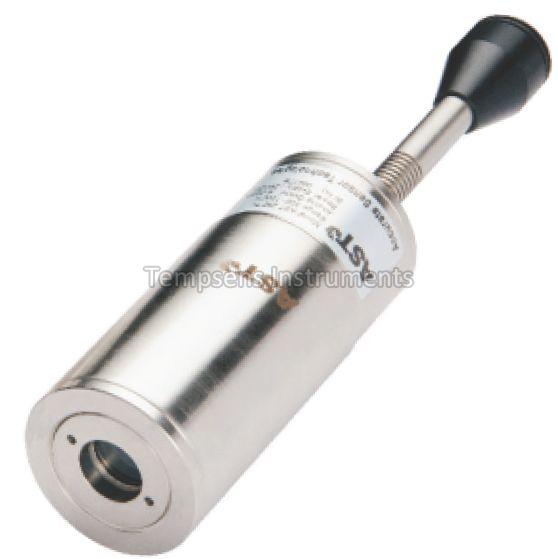 | | |
| --- | --- |
| Business Type | Manufacturer, Exporter, Supplier, Retailer, Wholesaler |
A450C PL/TL is a highly accurate digital two colour IR pyrometer from A series family for non contact temperature measurement. The Pyrometer measures the temperature of an object by calculating the ratio of the energies at two different wavelength bands. The ratio technique eliminates and reduces errors in temperature measurement caused by changes in Emissivity, Surface finish and energy absorbing materials such as Water vapour etc.

Details : The two colour IR Pyrometer is used to measure the temperature in variety of applications in Steel(Induction heating,Forging, Annealing, Welding, Sintering and Rolling mills), Cement(Kiln burning zone ), Glass(Gob temperature measurement) and Crystal growing.

Features :
Wide temperature ranges from 600oC to 2500oC.
Spectral range 0.7 μm....1.15 μm
Fast response time within milliseconds
Two Color model
Laser targeting / Through the lens view finder sighting options
Analog output options available like 0...20mA, 4...20mA and 0...10V
USB2.0 Digital output and RS-232/RS-485 Serial interface
User friendly PC software for communication

Standard Scope of Supply :
Pyrometer with Laser pilot light(PL)/Through the lens(TL) sighting(user can select while ordering)
Analog output 4...20mA, 0..20mA, 0..10V
USB 2.0 Digital output, USB Cable
Digital Interface RS-232 / RS-485(user selectable)
5 mtr long connection cable with connector
1.5 mtr. Communication Cable
Calibration certificate, Software & Operation manual

Optional :
Mechanical & Electrical Accessories
Extra Cable Lengths

Applications :
Induction Heating Melting
Annealing Rolling Mills
Welding Rolling Kilns
Forging Crystal growing
Sintering

Product Feature : Digital two color pyrometer with analog output & digital interface, USB output& laser targeting or view finder

Temperature Range :
600oC - 1600oC
800oC - 2500oC
Read More...
Looking for "
Non Contact Pyrometer (AST A450C)

" ?