Portable Thermocouple Calibrator (CALsys 1200)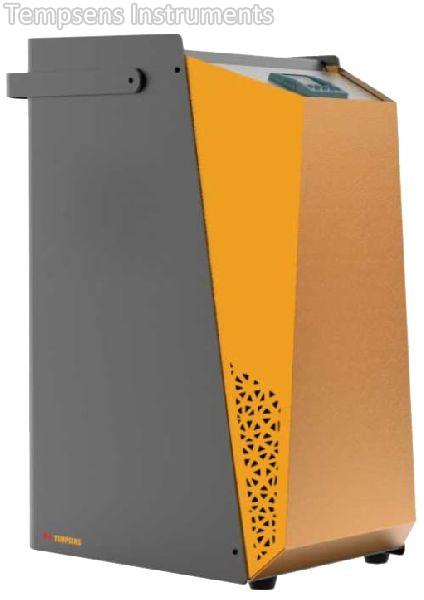 Business Type
Manufacturer, Exporter, Supplier, Retailer, Wholesaler
Temperature Range
250°C to 1200°C
Stability
±0.1°C at 250°C, ±0.2°C at 700°C, ±0.3°C at 1200°C
Uniformity
±0.20°C at 250°C, ±0.24°C at 700°C, ±0.36°C at 1200°C
Click to view more
Product Details
Insert OD Dimensions
37mm
Method of Control
Self Tunned PID Controller
Cooling time
150 min(1200⁰C to 250⁰C )
Resolution
0.1⁰C up to 999⁰C
Display
LCD,⁰C or ⁰F user-selectable
Size (HxWxD)
405(H) x 205(W) x 285(D)
Power Requirements
230 VAC, 1.5 KW(50Hz)
Computer Interface
RS- 232
Calibration
Accredited Calibration Certificate Provided
Environmental operating conditions
0 ⁰C to 40 ⁰C,0 % to 90 % RH(non-condensing)
Specification valid in environmental conditions
13 ⁰C ..... 33 ⁰C
Data logging (CALsys 1200 Autocal)
Data logging facility with logged data export to computer through LAN port (optional USB)
Download

View
CALsys 1200 offers high-temperature range from 250°C to 1200°C. It is a highly stable standard furnace for calibrating Thermocouples / RTD. It has been designed for high-temperature range calibration and find application in the glass, electrical power, automotive & material processing industries.

The comparison volume is a metallic block of special material, which is 37 mm in diameter with 215 mm long. The temperature of the calibrator is set and controlled by a self-tuned PID controller with automatic super fine adjustment. Version with 3 zone furnace is also available.

Key Features:
Large Immersion Depths
Wide Operating Range (250 to 1200°C)
High Stability
PC interfacing
Simple to Use and Cost-Effective

Accessories:
Reference Standard Thermocouple ('N' Type T/C)
NABL accredited calibration certificate - 3 point
Software - Cal Soft including for setting bath temperature and monitoring the PV. Graphical representations of PV/TIME with 2 hours data logging.
Operational Manual
Carry Case
Input (CALsys 1200 Autocal): Four Channels (One master and three test sensors), high-quality LEMO connector suitable for both T/C (J, K, N, T, R, S, B type) and Rtd.

Software (CALsys 1200 Autocal): The calibrator should be provided with software for data recording (Manual Mode) and Test Certificate generation in Auto Mode.
Specification
Temperature Range
250 to 1200oC
Temperature Resolution
1.0oC
Stability
±0.1oC at 250oC
±0.2oC at 700oC
±0.4oC at 1200oC
Uniformity
±0.4oC at 1200oC
±0.24oC at 700oC
±0.26oC at 1200oC
Controlling Sensor
PT/RH-PT T/C
Method of Control
Digital self tuned PID Controller
Insert Construction
Dia 37 x 215 mm long (2X6mm & 2X8 mm holes) of 160mm insertion dept
Time to Reach Max Temp
1.5 Hrs
Cooling Time 1200oC to 250oC
180 Mins
Computer Interface
RS - 232
Operating Temperature
20 to 45oC
Power Requirement
230 VAC, 1.5 KW
Dimensions
405(H) x 205(W) x 285(D) mm
Weight
Approx 14 Kg
Looking for "
Portable Thermocouple Calibrator (CALsys 1200)

" ?
Piece