CALsys-80/50-Autocal Automatic Liquid Calibration Bath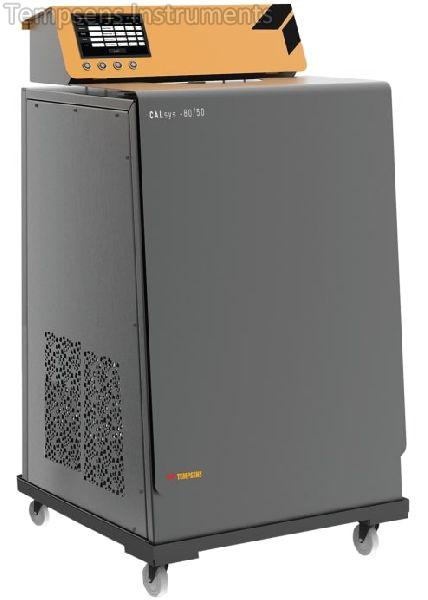 Business Type
Manufacturer, Exporter, Supplier, Retailer, Wholesaler
Temp Range
-80 to 50°C
Stability
±0.04°C at -80°C, ±0.07°C at 0°C, ±0.05°C at 50°C
Uniformity
±0.05°C at -80°C, ±0.09°C at 0°C, ±0.07°C at 50°C
Click to view more
Product Details
Temperature Resolution
0.1°C
Time to Reach Min. Temp
2 Hrs
Access Opening
105 x 105 mm
Method of control
Digital self tuned PID Controller
Computer Interface
RS - 232
Operating Temperature
20 to 25°C
Power Requirement
230 VAC, 2.0 KW
Dimensions
630 (W) x 1200(H) x 500 (D)mm
Data Logging
Data Logging facility with logged data export to the computer through LAN port (Optional USB)
CALsys -80/50 Autocal is an automatic calibration system for  RTD / Thermocouple and also for compensation of cold junction. CALsys -80/50 offers a temperature range of -80 to 50°C. It has large tank which is filled with liquid Methanol. The liquid is heated or cooled to the desired temperature. It has better stability & uniformity than dry block bath and as it uses of stirred liquid.The system consist of a Temperature bath and PC Software, which together contribute to the whole cycle of the auto-calibration process.The system accepts 4 channels, 4 thermocouples or RTDs. The connection for these channels through special type off locking connectors. The channel configuration can be done with LCD display via touch screen keypad. The thermocouple microvolt & RTD ohm reading for each channel is monitored with CJC compensation. After the calibration PC software generates a report of actual calibrated values for the inputs.

Key Features:
Large Immersion Depths
High Accuracy
High Stability and Uniformity
Wide Temperature Range
PC Interface
Simple to use and Cost-effective
Four channels(one master and three test sensors ), high-quality universal LEMO connector suitable both for T/C (J, K, N T, R, S, B type) and Rtd.
Software for data recording Manual Mode and Test Certificate generation in Auto Mode

Accessories:
Reference Standard PRT...Part No. TPRT-A-300
NABL accredited calibration certificate - 3 point.
Software - Cal Soft including for setting bath temperature and monitoring the PV. Graphical representations of PV/TIME with 2 hours data logging.
Operational Manual.
Input: Four Channels (One master and three test sensors), high-quality LEMO connector suitable for both T/C and Rtd.

Software: The calibrator will be provided with software for data recording (Manual Mode) and report generation in Auto Mode.
Looking for "
CALsys-80/50-Autocal Automatic Liquid Calibration Bath

" ?